About Us
Positive Impact Waste Solutions, LLC

is a privately held Delaware corporation based in Paramus, New Jersey. PIWS manufactures its patented medical waste processing system – the PIWS-3000. The PIWS-3000 has been operating continuously since 1997. PIWS has customers with established operations in both the United States and internationally. PIWS has both domestic and international customers with substantial growth plans. It also has distributed our smaller unit at hospitals in the United States. The PIWS-3000 was first introduced internationally in Europe in 2001 and China in 2004. PIWS has also sold units which are operating in a number of locations throughout China. The PIWS-3000 has two patents within the United States and international patents in China, Russia, United Kingdom, Mexico, Korea, Canada, Germany, Turkey, France, Italy, Spain and Ireland and PIWS has filed for international patent rights in several other significant international communities.
PIWS's headquarters is located in Paramus, New Jersey.PIWS maintains an assembly Plant in Edgewater, Florida, where it assemble its Systems for delivery to its customers. PIWS has achieved a consistent growth rate which has allowed for continued success.. During 2005, PIWS sold its processing operations to a larger public company (MedSolutions, Inc.) to focus on the manufacture and sale of the proprietary PIWS-3000 systems. MedSolutions, Inc. sold their operating business including the PIWS-3000 units to Stericycle in late 2007. During PIWS's processing operations growth, the customer base included large hospital groups, including Presbyterian Hospital in Dallas, Harris Methodist Ft. Worth Hospital, Methodist Healthcare System (San Antonio), Via Christi Regional Medical Center (Wichita, Kansas), to smaller facilities in West and North Texas and small generators in Kansas which are transported to a central processing facility in Emporia, Kansas. PIWS's customers have significant expansion plans and will use the PIWS-3000 system in their operations.
(Len Marsh, Geoff Smith, and Joseph Fazio)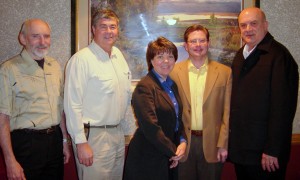 PIWS's Board of Directors is committed to expanding our patented technology throughout the World. The following is a brief synopsis of each of our directors/owners:
Joseph Fazio – Director

.
Joseph was formerly CEO of PET Scans of America. He has been in the healthcare field since 1981, when he began selling mobile medical devices. Joseph has successfully owned, operated and sold businesses that have provided mobile medical technology services to healthcare related facilities since the late 1980s. Joseph's prime experience and expertise are in the medical field, with specific emphasis in diagnostic equipment.  In 2004, Joe and his son established Medical Waste Recovery, Inc. which operates the PIWS-3000 units in the Northeast United States.
Geoffrey A. Smith – Director.
Geoff is co-founder and Chairman of Wellness Enterprises and has served as the President and Chairman of the Board of Medical Coaches, Inc. since 1976. For more than 50 years, Medical Coaches has provided special-purpose mobile units with an emphasis on medical products. Prior to joining Medical Coaches in 1972, Geoff served in various supervisory positions with Roadway Express in South Kearney, New Jersey. He is a graduate of Lehigh University, a member of Sigma Beta Delta National Honor Society in Business, Management and Administration, served in the National Guard and is or has served as a Board Member or in other capacities in the following organizations: Wilber National Bank, Astoria Federal Savings and Loan; Preferred Mutual Insurance Company; Medical Coaches Incorporated; American International Medical Waste, LLC; Thomas A. Dooley Foundation/Intermed USA, Inc.; Wilderness Properties Limited; A. O. Fox Memorial Hospital Foundation (Vice Chairman), New York Center for Community and Economic Development; Advisory Board, National Soccer Hall of Fame; MOEX Incorporated; New York State District Export council (by appointment of President Reagan and President Carter); Hartwick College Advisory council and Citizens Board; Future for Oneonta Foundation (Vice Chairman); Rotary Club (Past President); Jessie Dewar Foundation; and the Oneonta Chamber of Commerce (Past President).
Len Marsh – Director

.
Len began his career at Medical Coaches, Inc. as Corporate Controller in 1972. He was elected Vice President in 1978, at which time he assumed the additional responsibilities for manufacturing. Len manages all facets of Medical Coaches operations. He also serves as President of Medical Coaches' West Coast Division, MOEX, Inc., and is President of a new high-end coat-manufacturing venture, Valley Fashions, LLC. Prior to joining Medical Coaches in 1972, Len served as Senior Auditor with Rogers & Patterson. Len received his Bachelor of Business Administration degree from Niagara University in 1972 and his CPA in 1971. He serves as consultant to a variety of companies for the development of team-based operations.
Contact
Mailing Address
Corporate Office
Positive Impact Waste Solutions
PO BOX 1725
Paramus, New Jersey 07653
Plant Facility
500 Pullman Road Unit B
Edgewater, Florida 32132
Phone
(201) 820-2055
President Joseph Fazio Cell #
(201) 321-5797
Fax
(201) 845-7038
Email
jfazio@piwsinc.com